Tom Salvador is a character who is in Chilly's Crew.
Appearance
Edit
Tom is a gray and white tabby cat with blue eyes. He has a pink nose, and has a bit of hair on top of his head.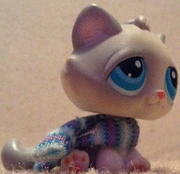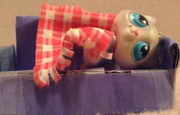 He (In the winter) wears a blue and purple scarf.
Personality
Edit
Tom is a kind kitty, he is sometimes called "Goth" and he gets quite annoyed about it.
Relations
Edit
Tom's mother is divorced with his Father, and he lives with his Father along with Chrysail.
Tom used to be Single, but he is now in a Relationship with Alyssa Minci, much to Chrysail Salvador's chagrin.
There is a rumor that Tom really likes sheep and musicals.
Tom really likes chocolate.
There is another rumor that Tom is actually a dog.
Tom does not like social situations.
Tom is kind of shy.
Acting as
Edit
Acts as Himself in LPS: Popularity School.